Ferrari wheels & Ferrari tuning
.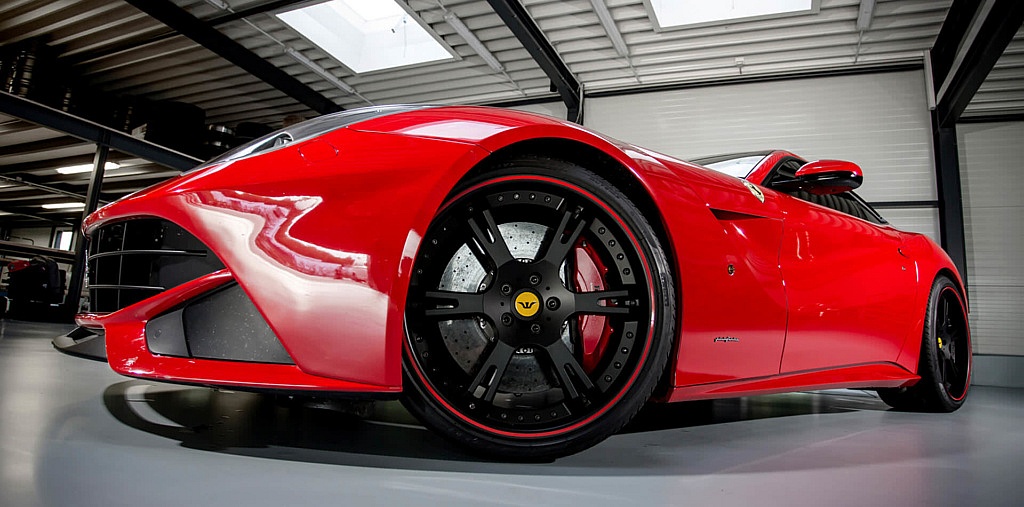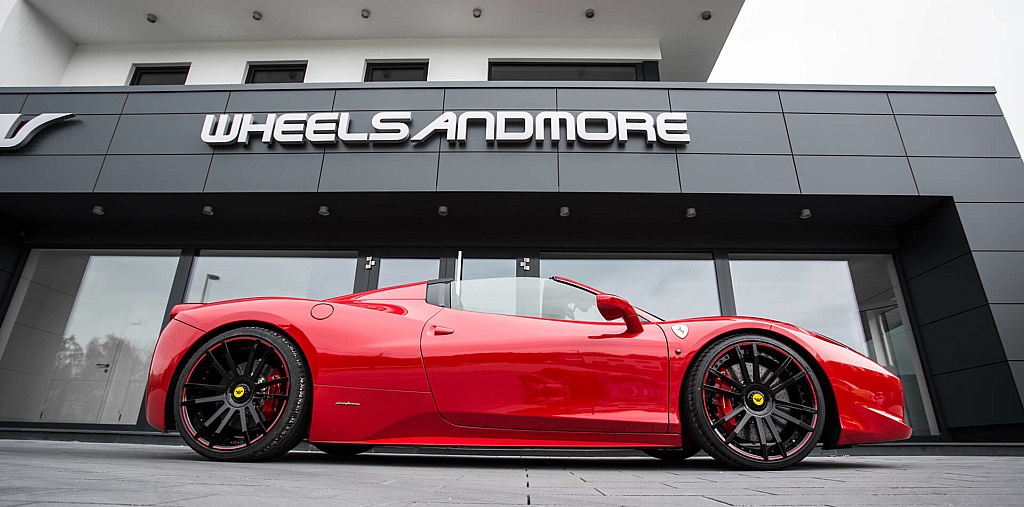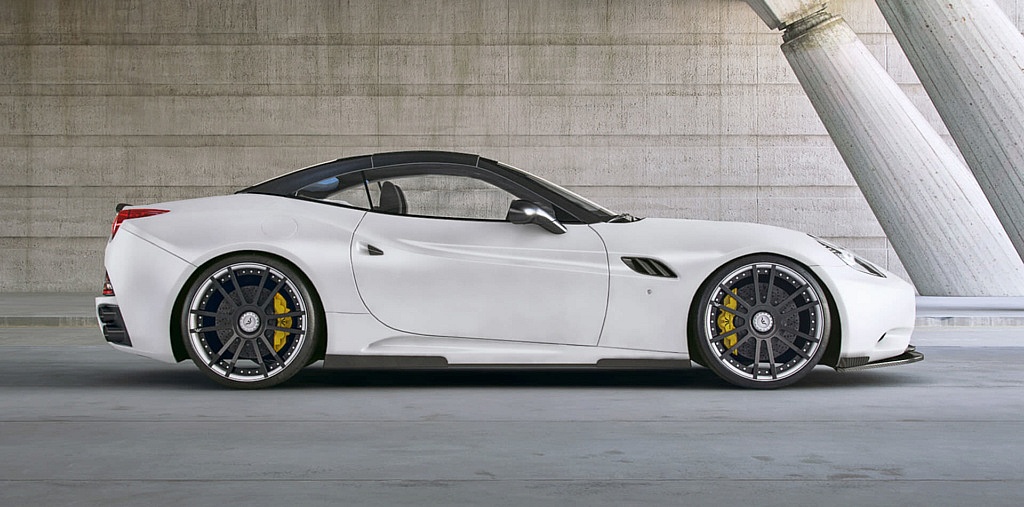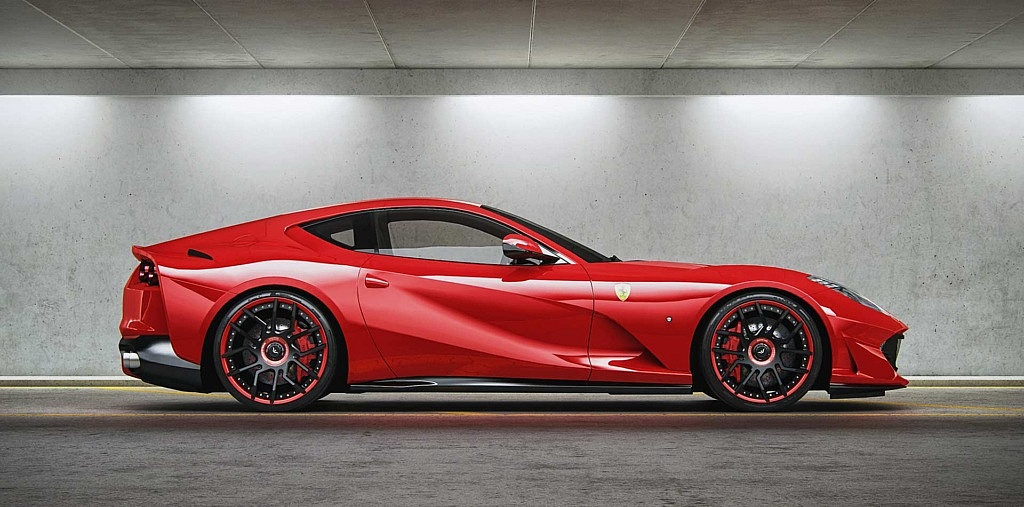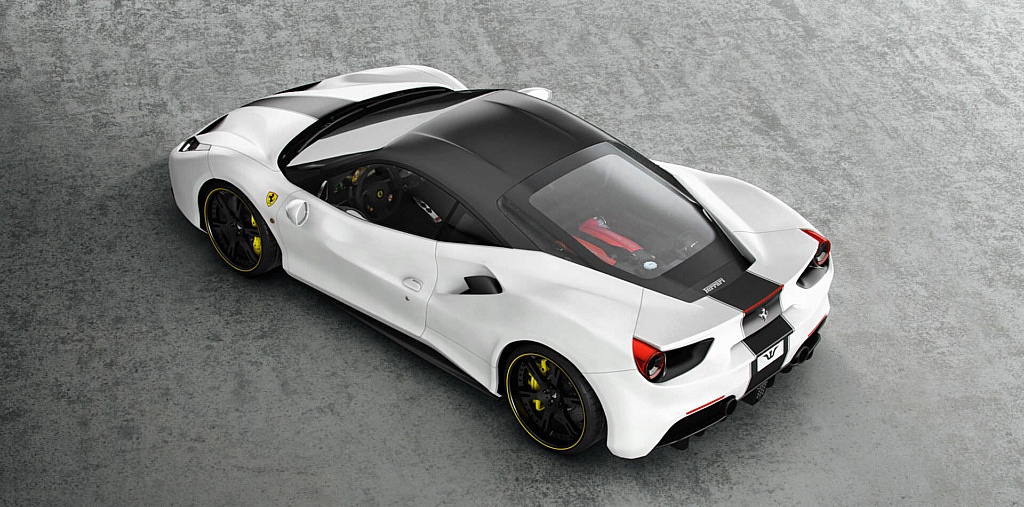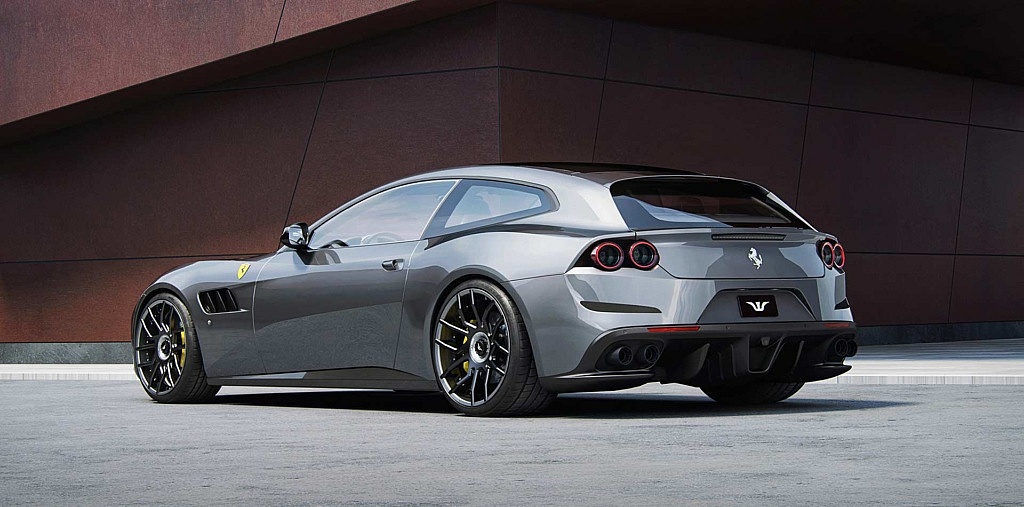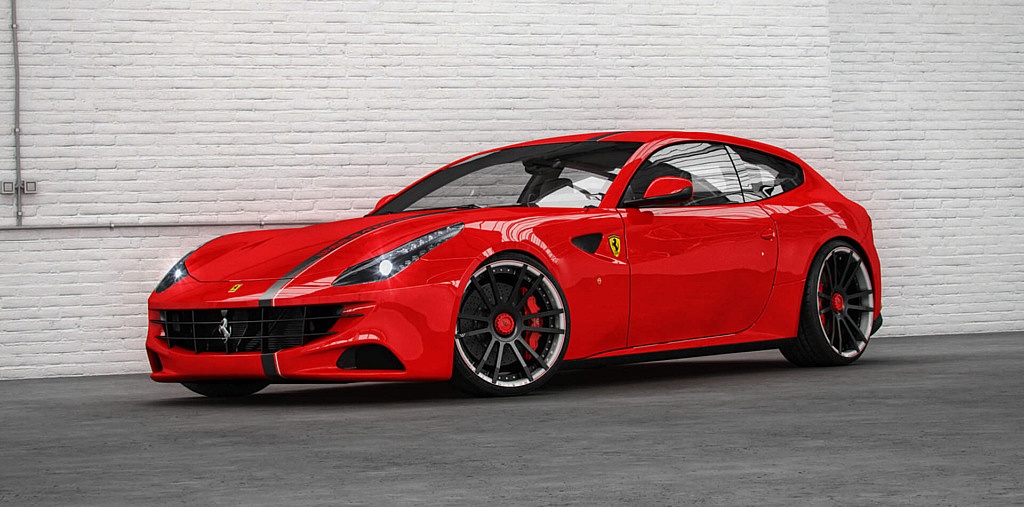 Ferrari: the brand history
Enzo Ferrari is responsible for the fact that 70 years ago, with the 125C, the brand came to be the first sports car of its kind, initially designed for racing purposes but sold for customer convenience. Previously, the Scuderia Ferrari had only appeared through successful participation as Alfa Romeo Werksteam. The company logo Cavallino Rampante still bears witness to the origins. In 1943, Ferrari moved to Maranello, where, even after the destruction of World War II, the factory still has its headquarters in 1946 after reconstruction. From the participation in the legendary Mille Miglia race Ferrari increasingly developed a sales market for the rich and super rich of the post-war period.
Premium sports car designs
Renowned designers such as Pininfarina, who has also worked successfully for the market-makers of today's Fiat Chrysler Group Alfa Romeo and Fiat, belong to Scaglietti, who also honors, among others, the nickname of the 612 Scaglietti. With the 250GTO, Scaglietti, as designer for Ferrari, built the now most expensive and coveted classic, which is traded in auctions with always new record prices. Bertone, whose Fiat X1 / 9 now enjoys cult and collector status as well as the Lamborghini Miura, for which Bertone also was responsible, was commissioned by Ferrari with design creations. In the list of Italian bodybuilders and designers, Vignale is another innovative designer in Ferrari's co-operation portfolio. Meanwhile, most of these amiable smithies unfortunately are no longer active, which will surely also be due to the advancing robot technology in vehicle construction, including Ferrari. Nevertheless, Ferrari traditionally never build more than 5 different models at the same time. One of the highlights of the long history of road-racing cars from Maranello is surely the Dino in its 6- and 8-cylinder versions, the F348, also known as Barbie and Ken Auto, the fast F355, which can still be found in many lovers' hands, the His pre-running Testarossa from 1984 and the Ferrari sold to date, the F360, which was later replaced by the F430. The countless successes in racing and, in particular, the history of Formula One, would certainly be a breakthrough in the course of the review and will not fit into the career of the German tuner Wheelsandmore, who has also embraced the models from Italy since its founding in 1999.
Tuning for current Ferrari models by Wheelsandmore
The current models of the portfolio like the Ferrari 488 and the California T are, of course, the mainstays in the tuning business of Wheelsandmore. But even rarer versions such as the 4-seater FF, which was presented as a family sports car for Ferrari for the first time, as well as its successor, the GTC4Lusso, are part of the Wheelsandmore program. The previous top model F12 Berlinetta has certainly found its way to the tuner in Germany, since the V12 already ex factory with a performance of 740PS. The limited model F12tdf will probably be rare in terms of tuning as collectors are always interested in models from series production in special editions. Now Wheelsandmore would only be one of several addresses in Europe, one would present a F12 conversion with a few pretty rims and a modified exhaust. Of course it was again the refiner, who in 2015 knew how to modify a very special Ferrari F12.
Ferrari for Steve Jobs by Wheelsandmore
The Apple's founder Steve Jobs, who unfortunately died too early, found his way over a few detours to the tuner near Cologne and enjoyed an extensive tuning course, which would certainly have given the former customer much pleasure.
Forged wheels for Ferrari
Forged wheels in 21 and 22 inches with individualized upgrades and an increase in performance with a tingling 785hp with chip tune and a stainless steel sports exhaust system made this unique Ferrari F12 a distinctive and fast single item. Even handcrafted carbon rims for the Ferrari Enzo and the fast LaFerrari have already been produced, but not for special reasons. Another feature of the rim producer is, besides the individual implementation of the customer's wishes, the correspondingly discreet secrecy against the environment, since many people unfortunately do not know how to deal with the success and passion of others. At the moment, the tuning factory is specially designed for the Ferrari 812 Superfast designed rims, which are, of course, made three-piece and made of forged aluminum. Ferrari's success story is thus linked to the history of the refiner from NRW.
Ferrari Tuning
Ferrari Tuning – the crowning glory for luxury sports cars
A Ferrari is more than just a sports car. It is the figurehead for all "who made it". For many, owning a Ferrari is a dream come true when you roll the brand-new model from the dealer's yard. Admittedly, – a Ferrari in standard equipment already looks really good – but of course it goes much better.
Wheelsandmore offers you a Ferrari tuning for your beloved car. With small and bigger as well as visible or invisible modifications we get even more power out of your Ferrari.
Currently we offer Ferrari Tuning for the following models:
• Ferrari 458
• Ferrari 488
• Ferrari 812 Superfast
• Ferrari California
• Ferrari F12
• Ferrari FF
• Ferrari GTC4 Lusso / GTC4 Lusso T
• Ferrari Portofino
• Ferrari F430
• Ferrari 599
• Ferrari 612 Scaglietti
Your car is not included? Feel free to contact us and inquire about your possibilities!
Software and chip tuning at Ferrari
Ferrari Tuning starts with software optimization. Here we offer you – depending on the model – different variants. In general we distinguish between:
• Tuning with TEC-Tronic auxiliary control unit for turbo engines
• Chip tuning / software modification
The first option does not change the software and the device can easily be dismantled. The second option is a permanent modification and promises an even higher increase in performance and speed.
Usually we offer different levels of tuning. So it's up to you to decide how much extra power you want to give your Ferrari tuning.
Upgrades for the Ferrari
Of course, we do not only carry out electronic tuning measures, but also offer you mechanical modifications. With Ferrari Tuning the exhaust system is in the foreground. The exhaust systems offered by us have a flap control with different modes. Depending on the setting, the flaps open sooner or later. For a particularly sporty driving style they can also remain permanently open.
Chassis modifications – e.g. with variable lowering springs or a hydraulically adjustable version – can also significantly increase driving pleasure.
We also offer you chic rims from our own, certified production, which are designed according to your ideas and have excellent performance characteristics.
Have you aroused your interest? Then please contact us and let us advise you extensively about your possibilities. We look forward to doing a Ferrari tuning on your car and getting the most out of it for you.
Ferrari rims
Ferrari rims – large selection for highest demands
For various models we have the suitable Ferrari rims in the offer. As a TÜV certified manufacturer, we are proud to be able to offer you a variety of high-quality rims in 20 inch, 21 inch or 22 inch. With each order you profit from the fact that we are responsive to your individual adaptation desires. Nearly unlimited colors and combination possibilities are open to you.
With Wheelsandmore rims for your Ferrari you make an excellent choice, because our Ferrari rims not only polish the look of your car. Especially with regard to driving comfort, high-quality rims are of special importance. In addition, they are suitable to carry out a weight optimization of your vehicle – only one of many measures that we can take over with Ferrari Tuning.
Are you still unsure which rim model is the right one for your Ferrari? We will be happy to answer your questions at any time. Let us know your ideas and we will identify which Ferrari rims you need.
What distinguishes our Ferrari rims?
All our Ferrari rims have some basic characteristics in common:
• 3-part construction
• crafted
• tested by the TÜV
• with weight-optimized forged stars
• various colors and combinations possible
• Carbon look and high gloss compression optionally possible
• Titanium screw connection on request
Especially the 3-part construction offers numerous advantages. All individual parts can be individualized and configured according to your wishes. Therefore, we can put all your ideas into practice.
Which different models are available?
Wheels for the Ferrari are available as hybrid and forged rims from Wheelsandmore. You should know the following brand names:
• FiveStar (hybrid wheel)
• F.I.W.E. (forged wheel)
• 6 Sporz² (forged wheel)
• Fork (forged wheel)
The rims are available in different sizes (between 20 and 22 inches). In addition, high model compatibility is generally ensured. Ferrari rims from Wheelsandmore are currently available for the following models:
• Ferrari 812 Superfast
• Ferrari California
• Ferrari F430
• Ferrari 599
• Ferrari 458
• Ferrari 488
• Ferrari F12
• Ferrari FF
• Ferrari GTC4 Lusso
• Ferrari 612 Scaglietti
Practical service: We also offer you – as a supplement to the Ferrari rims – a complete wheel set. We would be happy to make a recommendation: e.g. tires from Hankook, Pirelli or Continental. Depending on type and size of the rim different models come into question. All our wheel and tire combinations are TÜV tested and approved. Also for vehicles with a maximum speed of 340 km/h.
Now it is your turn. Find your Ferrari rims at Wheelsandmore and raise your ride comfort and the look of your car to the next level! Wheelsandmore has been building wheel rims in Baesweiler for more than 15 years in elaborate manual work strictly according to customer wishes.